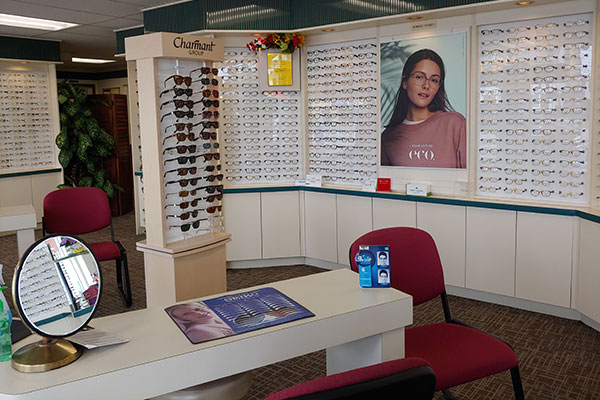 Your Only Stop for Quality Eye Care
At Brighton Optical, we do it all! We've served Western New Yorkers for over 52 years, and we're proud to be one of the only companies with an in-house lab.
You heard that right—we make our own glasses. Therefore, our customers never have to wait days or weeks for new frames, repairs, and adjustments.
We perform every step of your eye care on-the-spot, from the initial eye exam to any new frames and repairs along the way. We will always work to find the best possible options within your time frame and budget. In addition, we offer a variety of designer sunglasses, cases, cleaners, and accessories.
It's our goal to meet all of your eye care needs—without the wait!
Determining Your Prescription
Have you ever had an eye exam that leaves you with an inaccurate prescription? At Brighton Optical, we know how important your vision is! That's why we promise to always perform a high-quality eye exam. We listen to your needs and work hard to find a prescription that's your exact fit, every time. Plus, performing your eye exam in-house can save you time and money.
Crafting Your Frames
We're proud to offer the most modern, fashionable, and cutting-edge frames on the market. Our team is always up on the latest trends, and we're here to help you find the perfect match. Browse our growing collection of frames that will meet your needs and budget.
Transitioning to Contacts
Tired of wearing eyeglasses? The switch to contacts can sometimes be overwhelming, but we're here to make your transition as easy as possible. We work diligently with our customers to find a contact brand that will be comfortable and easy to maintain over time. Don't settle for less when we can deliver the best!
Finding Effective (and Stylish!) Sunglasses
Whenever summer comes, people start to resent their eyeglasses. So what do you do when you need some shade from the sun? There are many options, and we offer them all. From transition lenses to versatile clip-on options, we can help you find sunglasses that will fit your style and budget.
Accessorizing
The final step is to protect your new frames. We've got designer cases, cleaners, wipes, and repair kits—it's our goal to keep your glasses (and your eyes!) in top shape.
Repairs and Adjustments
No matter how hard we try, there are always accidents that can dent or damage even the sturdiest eyeglasses. When you're facing issues with your lenses or frames, we will make your sight our top priority. Plus, we're one of the only local companies with an in-house lab that allows us to make repairs and adjustments without keeping your frames overnight.
No matter what your eye care needs, our dedicated team at Brighton Optical will take care of you. We've been in business for over 52 years, and we are proud to serve our neighbors throughout Tonawanda, Amherst, Kenmore, Buffalo, and all of Western New York.