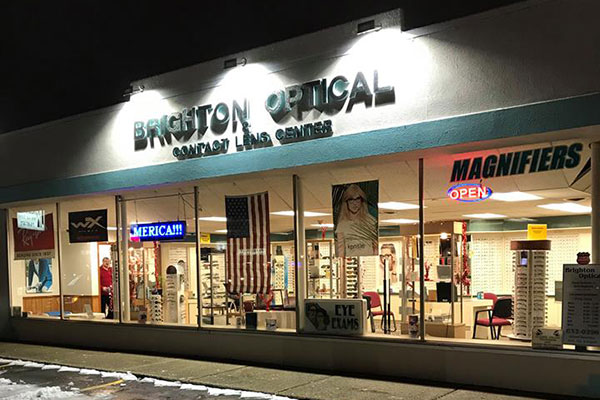 Tonawanda's Best Eye Care Team
At Brighton Optical, our dedicated eye care team has proudly served Tonawanda and the surrounding community for over 50 years. Since our origins in the 1960s, we have managed to develop a trusted one-stop shop for all of our customers' eye care needs.
Not only do we guarantee the quality of our products, but we make sure to provide the same great service every time. As a proud locally-owned business, our main focus will always be our customers.
In-House Service Means Less Wait Time
Need a new set of lenses or frames TODAY? While most companies will make you wait, we have a better solution. Our skilled team of opticians have an in-house lab that allows to carefully craft your order while you wait.
Are you tired of changing eye doctors and having to explain your visual history? You won't need to worry if our team is familiar with your situation. Our staff is here to stay, and they love working with their customers. At Brighton Optical, you can see the same optician every time.
Best of all, our in-house lab allows us to get the job done without keeping your frames for days. We can repair and adjust most glasses on-the-spot. That means you'll never have to go without your favorite eyeglasses!
Quality Vision - Rain or Shine
When it comes to your vision, we provide quality care every step of the way⁠—from your eye exams, to crafting your frames, to repairing and adjusting them over time… We're also here to help those that want to transition to contacts.
We'll ensure that you see properly, rain or shine. That's why our custom sunglasses make sure not to compromise your vision or comfort. We also offer cleansing wipes and cases to keep your lenses in top shape.
Not in the mood to park and walk in the Buffalo winter weather? Our building is easily accessible year-round. We offer plenty of parking, making it easy for you to get in and out in no time.
No matter what your eye care needs, our dedicated team at Brighton Optical will take care of you. We've been in business for over 50 years, and are proud to serve our neighbors throughout Tonawanda, Amherst, Kenmore, Buffalo, and all of Western New York.